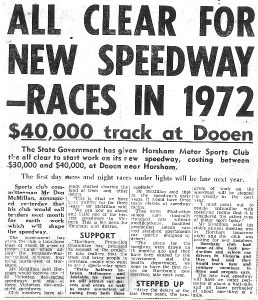 $40,000 track at Dooen
The State Government has given Horsham Motor Sports Club the all clear to start work on its new speedway, costing between $30,000 and $40,000, at Dooen near Horsham.
The first day races and night races under lights will be late next year.
Sports club committeeman Mr Don McMillan, announced yesterday that his club would call tenders next month for earth work which will shape the speedway.
The government has given the club a long-term lease of about 20 acres of Crown Land which adjoins the Horsham – Warracknabeal highway, four miles north-west of Horsham.
Mr McMillan said Horsham would become on of 22 Victorian day-racing speedways and one of three day-and-night speedways.
Club members have already started clearing the land of trees and other debris.
"This is what we have been waiting for for three years", Mr McMillan said. "We can now go ahead and build one of the biggest speedways in Victoria. This is big news for Horsham and district.
SUPPORT
"Horsham Promotion Committee has promised its support of the project. It also realises that the track will bring people to Horsham, people who wan to see a spectacular sport.
"Being halfway between Melbourne and Adelaide, we feel sure we will attract car drivers and crews as well as many supporters of racing from both these capitals."
Mr McMillan said in speedway's early years, it would have three main classes of speedway racing.
They were: Production Saloon Cars, basically standard cars without modification.  Modified Production Saloon Cars and Standard Sportsmen's car, (partly designed by driver).
"The pans for the speedway were drawn up 19 months ago and there have been okayed by the government and the health department". We hope to have the first races on Horsham's new speedway late next year.
STEPPED UP
"After the delays of the last three years, the progress of work on the speed way will be stepped up greatly in the next year.
"I must point out to people unfamiliar with speedway racing that it is considered the safest type of motor sport today"
Mr McMillan said his club's annual meeting was in Horsham tomorrow night and the club was looking for new members
The Horsham club had some of the best production and saloon car drivers in Victoria and they had said they would teach new and younger members to drive and prepare cars.
The new oval speedway will have an outer perimeter of about about one-third of a mile.
SOURCE: The Mail-Times 1971