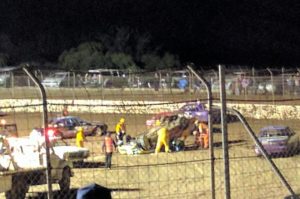 Warracknabeal business person and reknowned speedway driver Kathryn Wilken-Jackson had the ride of her life on Saturday night at Blue Ribbon Raceway.
Wilken-Jackson is well known in speedway circles for her talent behind the wheel of her Commodore Street Stock and on Saturday night was in a position to have one of the best nights of her career.
"I had been having really good luck in the heats racing against all the boys and had made the shootout for the starting positions in the final and I was rapt just to be able to be up there", Ms Wilken-Jackson said.
"I had a great run in the shootout and won the front row outside pole, in front of some of the best streetie drivers in the series, it was looking really good for the final", she said.