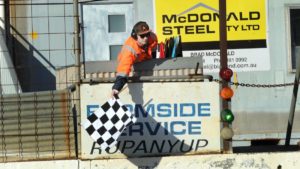 The Horsham Motor Sports Club will celebrate Blue Ribbon Raceway's 20th anniversary as it draws the 2016 season to a close on Saturday the 13th of August.
Club president Mick Fitzgerald said the club had come a long way over 20 years.
"Before the track was built we were a travelling club," he said. "We've made a lot of upgrades over the years.
"Originally it was a sandstone track but now it has changed to clay."
Other additions to the track include light towers, new pit boxes and more recently the addition of gates named in honour of Robin Thomas.
Fitzgerald said it was thanks to the hard work of many volunteers, the support of surrounding districts and donations that the club had become what it is today.
"Without the help of the volunteers it wouldn't keep going," he said.
"People have come to envy the track because we've got so many volunteers who donate time and equipment to help the club."
The track's reputation has also seen it host multiple Victorian title races.
Like many speedway clubs, increased costs have made it harder to maintain and grow memberships.
Fitzgerald said it's good to see more young people coming to keep the sport going.
The celebration will also double as the the club's 2016 presentation night.
"A lot of the old members are coming back on the night," he said.
"We've invited the original president and secretary along.
"We're hoping for a big turn out at the Kalkee footy ground."
Past and present club members are all invited.
Tickets for the night will be $20 for adults and $10 for students. Kids under 12 enter for free and a family ticket costs $50.
A three course meal will be served and drinks will be available at bar prices.
Memorabilia will be displayed and attendees are invited to bring mementos.
RSVP by August 5th to Mick Fitzgerald on sec@blueribbonraceway.com.au
By Stuart McGuckin
SOURCE: Wimmera Mail Times, August 1, 2016