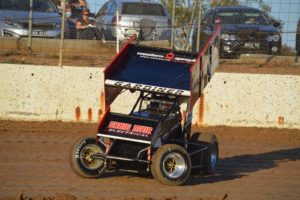 About 1000 people descended on Kalkee's Blue Ribbon Raceway on Saturday night to watch the Australian Allstar Sprintcars Series.
South Australia's Scott Bogucki finished first, with Dion Bellman finishing second and Victorian Chris Solomon finishing third.
Bogucki and Bellman led the pack for the entire race, while Solomon had to fight to fend of South Australian driver Sam Putland, who finished fourth.
Horsham Motor Sports Club secretary Graham Gerlach said it was a great night for racing. "The Street Stocks and Limited Sportsman both had small fields and enjoyed excellent track conditions and racing", he said.
"Their participation is important to give the Sprintcars a break between races for repair and tuning time."
SOURCE: The Wimmera Mail-Times February 18, 2015