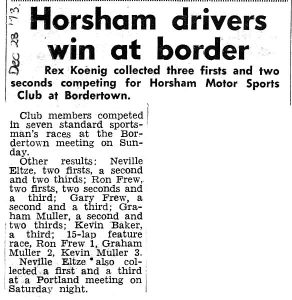 Rex Koenig collected three firsts and two seconds competing for Horsham Motor Sports Club at Bordertown.
Club members competed in seven Standard Sportsman's races at the Bordertown meeting on Sunday.
Other results: Neville Eltze, two firsts, a second and two thirds; Ron Frew, a second and a third; Graham Muller, a second and two thirds; Kevin Baker, a third; 15-lap feature race, Ron Frew 1, Graham Muller 2, Kevin Muller 3.
Nevile Eltze also collected a first and a third at a Portland meeting on Saturdaty night.
SOURCE: The Mail-Times December 28, 1973