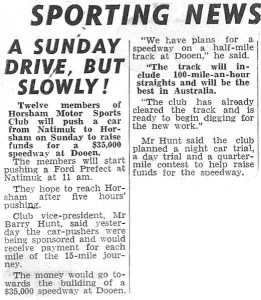 Twelve Members of  Horsham Motor Sports Club will push a car from Natimuk to Horsham on Sunday to raise funds for a $35,000 speedway at Dooen. The members will start pushing a Ford Prefect at Natimuk at 11am. They hop to reach Horsham after five hours pushing.
Club vice-president, Mr Barry Hunt, said yesterday the car-pushers were being sponsored and would receive payment for each mile of the 15-mile journey. The money would go towards the building of a $35,000 speedway at Dooen.
"We have plans for a speedway on a half-mile track at Dooen", he said. "The track will include 100-mile-an-hour straights and will be the best in Australia. "the club has already cleared the track and is ready to begin digging for the new work."
Mr Hunt said the club planned a night car trial and a day trial of the quarter-mile contest to help raise funds for the speedway.
SOURCE: The Mail-Times 1971?