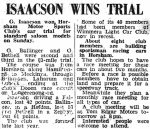 G. Isaacson won Horsham Motor Sports Club's car trial for standard saloon models on Sunday.
G. Ballinder and G Bethell were second and third in the 83-mile trial.
The course was from Horsham along Hamilton Road to Mockinya, through Brimpaen, Laharum and Lubeck ending at the club's Dooen race circuit on Longerenong Road.
Isaacson driving a Falcon, lost 42 points. Ballinger, in a Holden lost 57 and Bethell in a Zephyr, lost 61 points. Continue reading Isaacson Wins Trial →