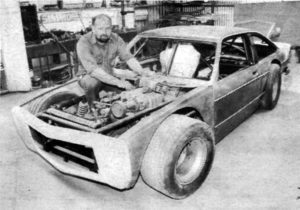 Wimmera Motor Sports Club will have its premiere race meeting this weekend at Nhill's Intercapltal Speedway at 7.30 pm Saturday.
Drivers have entered about 60 cars in about 30 events. A feature at the debut meeting will be a field of Speed cars from Melbourne.
Speed cars are among the fastest and most exciting of speedway racing machines.
Other races will include Super Saloon, Modified Sportsman and Modified and B Grade Saloon events.
Organisers have postponed a demolition Derby until December 15. The club believes that drivers had insufficient time to prepare machines for a derby this weekend.
Wimmera Motor Sports Club formed earlier this year when Horsham and Nhill motor sports clubs amalgamated.
Horsham had members, but no track and Nhill had a track, but few members. Wimmera Motor Sports Club has relocated pits at Intercapital Speedway and is continuing with extensive track alterations.
Intercapital Speedway is about five kilometres north-east of Nhill on the Jeparit  Road.
Horsham driver Trevor Simmons hopes to have a new $15,000 Super Saloon ready for Saturday's meeting.
The car is the result of about six months work by Simmons with tbe help of Mick Fitzgerald of Horsham and Don Pfeiffer of Nhill.
Simmons' car features a super-charged six cylinder Holden engine, a professionally manufactured racing chassis and many fibre glass panels. The fibreglass panels make the car lighter and quicker.
Wimmera Motor Sports Club has planned nine meetings for the 1984·85 season.
Admission to Saturday night's racing is $5 for adults, $2.50 for pensioners and 50 cents for children.
SOURCE: The Wimmera Mail-Times October?, 1984