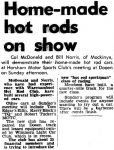 Col McDonald and Bill Norris, of Mockinya, will demonstrate their home-made hot rod cars at Horsham Motor Sports Club's  meeting at Dooen on Sunday afternoon.
McDonald and Norris, who have experience with Warrnambool Hot Rod Club, have built several high-powered cars.
Other cars at Sunday's meeting will include Tom Edgar's Elfin, Kerry Block's "TQ" and Robert Tucker's MG TC.
The new club has repaired the Dooen track and leased equipment owned by Wimmera Light Car Club, which is in recess. The club has about 35 financial members and is trying to introduce the new "hot rod sportsman" class of racing.
Members have built a quarter-mile track for the new class.
Sunday's program will include events for anyone wanting to try out a car. There will be a barbecue after events finish
SOURCE: The Mail-Times November 17, 1967