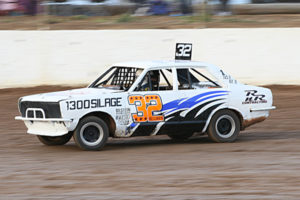 Blue Ribbon Raceway will fire up this Saturday welcoming feature classes AMCA's and Junior Sedans.
A large field of 28 cars have nominated for the Marulan Driver Training Centre, V8 Superlaps Series Junior Series. The series consists of nine rounds throughout Victoria with the winner of the series receiving a private tuition and drive in a V8 Super Car at Marulan Driver Training Facility.
The Series first prize is valued at over $2000 with second prize being a 125cc motorbike.
Series Leader Dion Bellmen, fresh off his Tasmanian Title Victory last week, will strongly contest with Brock Atkins and Jack Bell who are respectively second and third on the leader board. The Buckingham Brothers will be amongst the mix, always putting on a good show on the Horsham dirt.
AMCA's will also take to the track with a good field of nominations. Keen for some racing after having their national title in Queensland cancelled due to the floods.
AMCA Nationals are a cross between a sedan and an open-wheel race car featuring a Super-Sedan style body. They also have an open-wheel configuration.
Among the drivers will be Darren McCarthy, Bill Lodwick and Sharon Tindal.
Supporting the two features will be a mixed ASCF class of Modified Productions, Production Sedans and 3 Litres. A healthy field of nominations have been received and racing will be amongst the hottest of the night.
Other supports include Street Stocks who's Victorian Title is being held at the track over two days in March, along with V8 Trucks, ASCF Ladies and Limited Sportsman.
Gates open at 5.30pm with racing to commence at 6.30pm.