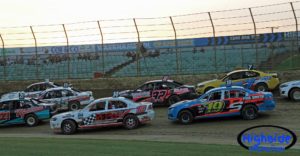 THE Victorian Modified Sedan Title will be held this weekend at Horsham's Blue Ribbon Raceway.
Thirty cars have nominated for the event including defending champion Aidan Raymont and the best of the best of the Victorian Modified Production Association.
Raymont took out the T-Bar Nationals event held at Toowoomba on the weekend and is coming into the Title in good form.
Jake Drewett placed third in the same feature and was dominant in heat races.
Kye Walters has been a stand out in the VMPA Series this year, winning four of the rounds. And Tasmanian Jakobe Jetson has proved consistently he can't be taken lightly.
Daniel Simpson and Michael Hayden are two of VMPA drivers who will welcome the Title to their home track.
"It's a great opportunity to get to race in front of family, friends and sponsors that don't normally get to our other meetings," Simpson said.
Hayden echoed Simpson's thoughts: "It's always good racing at your home track having the support of family and friends, plus I'm used to the track here so it makes it less nerve racking going into the Title."
Simpson has had a relatively drama free campaign in the VMPA – with only one major incident at the last round, held at Premier Speedway in Warrnambool.
"Unfortunately I damaged the car heavily at the last round and have been working hard to get it turned around for this weekend," he said.
"So fingers crossed we get it back how it was or better."
He's the first to admit this season he has performed relatively well in heat races but failed to have any success come final time.
"I need to make each heat race count and hopefully start towards the front to have any chance of a good result," Simpson said of his plan for Saturday night.
Hayden hasn't appeared as much as usual on the race track this season but is looking forward to getting back out there Saturday night.
"I'm hoping that we can some good pace out the car this weekend and not break it up too much," the driver of the Number 31 said.
"Hopefully we can get the same pace we had at Ballarat and steal a few spots."
The odds might be stacked against an interstate driver to win, with only two nominated, but there is a Tasmanian young gun who is determined to give the Title a good crack.
Jetson, in his first season in Modified Sedan racing, has taken the Tasmanian competition of the class by storm. He ran with Walters at the recent Tasmanian Modified Sedan Title, proving he has what it takes to match it with the best.
Jetson will pilot the Number 36 BA Falcon of Atkins Family Racing this weekend.
"I am absolutely looking forward to racing against some of best in the business in Modified Sedans," Jetson said from his hometown of Brighton in Tasmania earlier this week.
"This is my first season in Modifieds, so to me I'm already testing myself by being nominated just for this event.
"This will be one amazing experience, and I honestly can't thank my parents enough, as well as the Atkins family, for allowing me it."
Jetson said his goal for this weekend is to qualify for the A Main, but he won't lose sight of enjoying himself and taking in as much experience and knowledge as he can to bring back to his racing in Tasmania.
Blue Ribbon secretary Michelle Ryan said the Club is very pleased to be hosting the Title as an alternative to Rushworth Speedway.
"It was a massive boost for our members who see it is a sign that their hard work payed off after the National Title in 2018," Ryan said.
"When we were approached by VSCF there was no doubt for us that we could pull together a great event at short notice, it has been hard work for many of us, but it is all coming together now.
"We have also had some great local sponsors jump on board which is a great help."
Ryan said it would be great to see one of the locals – Simpson, Hayden or club member Matt Gerlach claim the Title.
"Micka Hayden has had a troubled season in the HO31 thus far and the HO33 of Daniel Simpson received some serious damage at the final round of the VMPA series, so it would be great to see both of them get out on the track and get some good results," she said.
"Matt Gerlach is also a long time member of the Horsham club, so it would be great to see him have a great night in the AV14 as well."
Throwing drivers like Andrew Blackwell, Brock Atkins, Graham West and Matt Nelson into the mix means the crowd is in for an action packed night of racing
"The Modified Sedans put on a great show wherever they go and we've seen some fantastic racing this season in the VMPA Series," Ryan said.
"The field nominated includes some of the best drivers in Australia.
"I think everyone will bring their 'A Game' and we will see some close, fast paced racing."
Support classes for Saturday night are Production Sedans and Victorian Mini Sprints.
Nominations for the Victorian Modified Sedan Title are as follows:
V1 Aidan Raymont
V2 Jeremy McClure
V4 Brock Atkins
V7 Andrew Blackwell
V6 Peter McCarthy
V11 Jeff Leahy
V13 Russell Bent
V14 Matt Gerlach
V15 Dale Hallett
V16 Russell Felsovary
V18 Jacob Drewett
V21 Nick Hill
V25 Chris Hayden
V31 Michael Hayden
V32 Brody Chrystie
V33 Daniel Simpson
V36 Jakobe Jetson
V41 Mark Sheen
V42 Scott Angus
V46 Kye Walters
V49 Liam Bolitho
V56 Graham West
V61 Matt Nelson
V69 Benny Aworth
V72 Martin Hawson
V81 Rodney Burr
V86 Angelo Halacas
V94 Rachel Pratt
V132 Mick Johnson
V133 Taleah Dolic