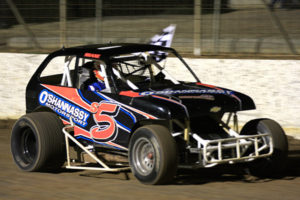 It was perfect conditions for speedway on Saturday night at Blue Ribbon Raceway with feature classes Super Rods and Marsh-Modifieds putting on some action packed racing. Super Rods saw Paul O'Shannassy take the victory in his first race for the season.
The first heat of the night was won by Jason Kavanagh ahead of Paul O'Shannassy and Dale Walsh. Heat 2 saw Dale Walsh as the victor, taking the win from Howard Stansfield and Jason Kavanagh in third. The final heat of the night saw Kavanagh fend off Stansfield and Adam Verhoeven to win. Top 6 drivers then went on to a Pole Shuffle which saw some spectacular, hard racing from the drivers, with Kavanagh holding onto his pole position for the final.
Kavanagh leapt to the lead at the start of the final; however O'Shannassy clawed his way back to the front putting a great move on Kavanagh to take the lead. O'Shannassy charged away from the field in the final taking the victory ahead of Jason Kavanagh and Michael Coad.
Rob Taylor charged to victory in the final of the Marsh Modifieds ahead of Linda Devlin and Nash Harris. Early heat races were dominated by Linda Devlin taking out two of the heat wins, with Rob Taylor finishing second and Nash Harris third. Heat 3 saw a new winner in Nash Harris, ahead of Rob Taylor and George Potts.
Production Sedan / 3 Litre heats were dominated by Steve Ellis, wining all four heats for the night with a consistent Graham Gerlach finishing second in all four. Whilst Steve Hateley and Keegan Duff fought it out for third place in the heats. Returning driver Neil Watson seemed to struggle with his new car, whilst Mark Chapman had a great first night out in his Torana, getting in some good seat time and even passing a few cars.
Luke James finally had a mechanical-issue free night in the Street Stocks, winning three of the four heats, with Richard Bansemer taking the win in the final heat of the night. Visiting drivers pushed the locals that little bit harder with Jason Degoldi back in his EL Falcon on the pace along with Ballarat drivers Stuart Robinson and Des Birkin.
Kathryn Wilken was unbeatable in the ASCF Ladies, taking the win in all four heats. Katelyn Eltze and Emma Wilken fought it out for second place, sharing two each in the heats.
V8 Trucks put on some great racing with Jaryd Carman winning two of the heats of the night proving he had some of the answers for usually unbeatable driver Luke James. Dean Thomas did his best in heats 2 and 3 to beat James and finished in a comfortable second place in both heats.
For all those keen race fans out there it is only a short three weeks until Blue Ribbon Raceway will light up with action on 2nd February. Feature classes will be AMCA's, 1200 Juniors and Modified Productions with support racing from Street Stocks, V8 Trucks, ASCF Ladies, Prod/3 Litres and Limited Sportsman.