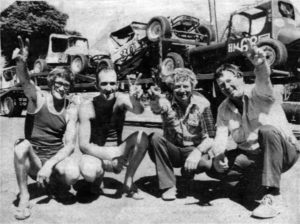 Seven Standard Sportsman cars from the Horsham's car club raced at Portland on Sunday night.
Pictured are club members and owner drivers from left, Jeff Netherway, Trevor Blake, Bob Trotter and Bruce Reynolds.
When pictured on Saturday with their cars, the four showed their ambitions for the night's racing with a victory salute.
SOURCE: The Mail-Times 1972?