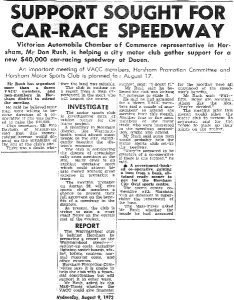 Victorian Automobile Chamber of Commerce representative in Horsham, Mr. Don Rush, is helping a city motor club gather support for a new $40,000 car-racing speedway at Dooen.
An Important meeting of VACC members, Horsham Promotions Committee and Horsham Motor Sports Club is planned for August 17.
Mr Rush has organised more than a dozen VACC members, and non-members in Horsham district to attend the meeting. He said he believed some men were willing to become directors of a co-operative if one was formed to raise the $40,000.
Club Secretary, Mr Eric Davison of Rupanyup, said that this money raising avenue would depend on the suitability of the soil at the club's site. There was a doubt whether the land was suitable.
The club is waiting on a report from a man experienced in the sport who will inspect the course. Continue reading Support Sought For Car-Race Speedway →