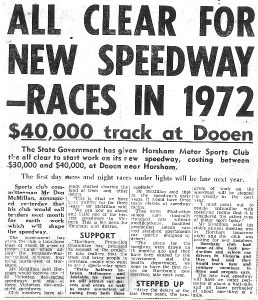 $40,000 track at Dooen
The State Government has given Horsham Motor Sports Club the all clear to start work on its new speedway, costing between $30,000 and $40,000, at Dooen near Horsham.
The first day races and night races under lights will be late next year.
Sports club committeeman Mr Don McMillan, announced yesterday that his club would call tenders next month for earth work which will shape the speedway.
Continue reading All Clear For New Speedway – Races in 1972 →