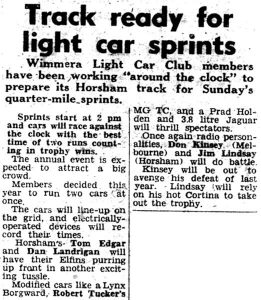 Wimmera Light Car Club members have been working "around the clock" to prepare its Horsham track for Sunday's quarter-mile sprints.
Sprints start at 2pm and cars will race against the clock with the best time of two runs counting in trophy wins.
The annual event is expected to attract a big crowd.
Members decided this year to run two cars at once. The cars will line-up on the grid, and electronically operated devices will record their times.
Horsham's Tom Edgar and Dad Landrigan will have their Elfins purring up front in another exciting tussle.
Modified cars like a Lynx Borgward, Robert Tucker's MG TC, and a Prod Holden and 3.8 Litre Jaguar will thrill spectators.
Once again radio personalities, Don Kinsey (Melbourne) and Jim Lindsay (Horsham) will do battle. Kinsey will be out to avenge his defeat of last year. Lindsay will rely on his hot Cortina to take out the trophy.
SOURCE: The Mail-Times March 10, 1967