by Mark Cowin.
Blue Ribbon Raceway will come alive on Saturday night with Open Wheel action and celebration as Horsham Motorsports Club hosts the Les McMaster Memorial for Limited Sportsman and the Robin Thomas Memorial for V8 trucks supported by the SDAV Hot Rods Production Sedans and Street Stocks.
Limited Sportsman
Limited Sportsman drivers from across the state will converge on the Kalkee track in search of a win in the prestigious Les McMaster Memorial that has previously been won by Jock Baker and Mark McDonald among others and both have shown great support for the event and have battled hard over the years to take the victory. Both drivers are nominated and will be sure to battle again for the trophy that personifies the class that Les had a hand in progressing until his passing and the legacy that the trophy brings to the class. Not to be out done by the guys newcomer Katelyn Worthy and Jenny Godfrey will be trying to show that they can give as well as the guys and will be out to prove that point.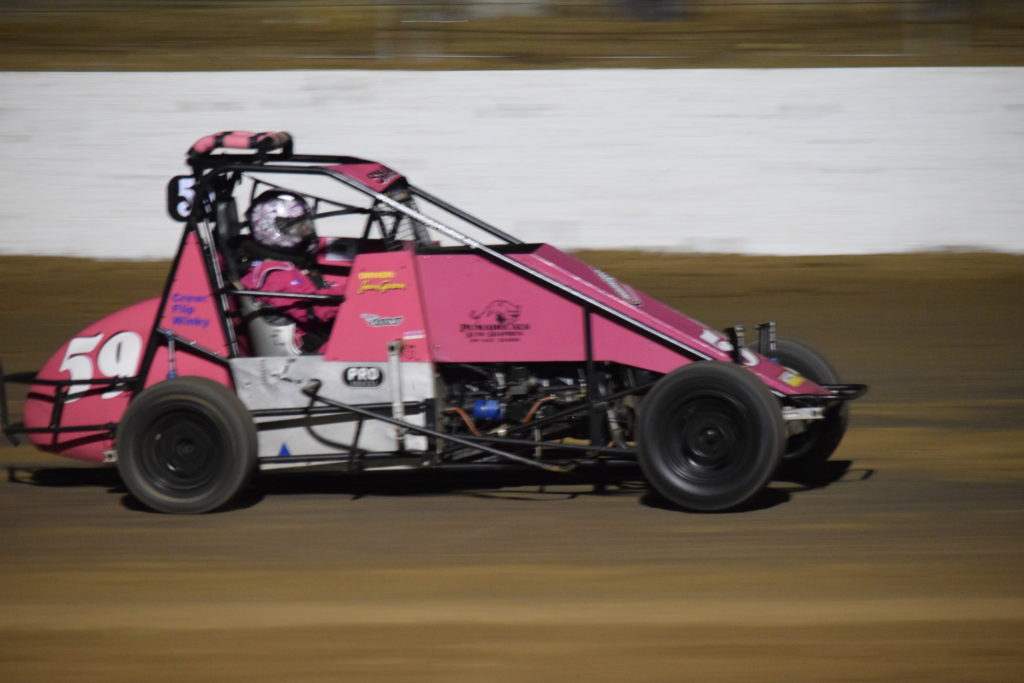 V8 Trucks
Horshams own V8 trucks will again be out in force to compete hard for the Robin Thomas Memorial trophy on the wide open spaces of the Track in the Paddock, and they need it. Celebrating Robin Thomas, a stalwart of the club over many years as a Jack of all trades and a, I'll get it figured out, type of guy and a man that held many positions within the club, from a volunteer to President and grader driver to V8 truck driver these guys have shoes to fill, big ones. With Luke 'Redda' James, Fletcher Mills and Wes Bell all keen to secure the win the field will be spread track wide all race with Redda on the high line as usual wearing the paint off the wall and a flock of screaming V8's in close pursuit. For those that have not seen these trucks in action it is a sight to see these drivers wrestling the big race trucks around the circuit.
SDAV Hot Rods
After an absence of over two decade the SDAV hot rods are returning to Kalkee to become reacquainted with the wide long track and will definitely put on a great show. With names such as Marco, Hovey, Jenkins, Meakins and West, names that show a long lineage in hot rods, in the line up for their Thunder Down Under series the long history of this club can not be denied. Only one driver in the current crop can claim any racing knowledge of the track and that is Phil Jenkins who has been racing 'hot rods' since the earliest days and throughout the transition to today's high tech machines from the backyard racers of yesteryear. Beginning in the early 50's the 'A Grade' hot rod has grown from a cut up 30's model Ford or similar car using side valve V8's through the years to 6 cylinder and finally small block V8's today. The Hot Rod was the catalyst for many other forms of racing including Sprintcars and Super Rods of today and are a light weight version of the Heavy Hot Rod more commonly seen in the West of Victoria and South Australia. After his victory in the State Title last weekend, Stan Marco Snr, who's Father also Stan Snr dominated hot rods through the 70's and 80's, will be looking to continue his winning ways on Saturday night. There will be 4 Marco cars in the line-up on Saturday night. A unique feature of the appearance of the SDAV cars will be the use of an original restored SDAV car from 1973 as a pace car for the night. This car ran against many of the drivers in Saturdays meeting driven by Maurie Moss throughout Southern Australia and is a great contrast to today's cars. It is still demonstrating on track and owned and driven by Leanne Shanks and Mark Cowin of Beulah who restored the car.
Production Sedans
Proddies will be making an appearance with a nice field in what has been a very busy schedule racing across the state for these teams. After a hectic Title held at Hamilton recently and the absence of the interstate and intrastate teams this could be the time for the locals to shine. Sophomore driver Ryan Queale has shown promise this season with some nice finishes and tempered with some dissapointment getting tangled up in other cars issues, Ryan is more than determined to put on a good showing for his legion of local supporters. Team Queale has put together a very professional squad with their team uniforms and dad Shaun is doing his best keeping the car pointed in the right direction as well as, of course, keeping other teams cars on track as is the family atmosphere of the class. Ryan will have to contend with the teams of Sparrow, Calderwood and Wilson among others that will keep him honest. Street Stocks will also be putting on a good showing in their own way with tight and very entertaining racing that will have the fans on their feet all night.