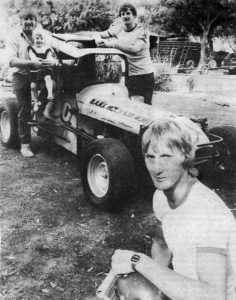 Victorian Limited Sportsman champion Rod Blatchford of Horsham will defend his speedway title at Bairnsdale on Sunday. Blachford, who won the title in Hamilton last year, will be one of seven Horsham Motor Sports Club drivers to compete for the state title.
Others are Noel Sharrock, Peter Gross, Trevor Jennings, Phil Blake, Dean Baker and Lester Mutch.
The picture shows three of the challengers, Phil Blake, foreground, Rod Blatchford nursing Blake's daughter Tennille, 2; and Noel Sharrock. The car is the one Blake will use on Sunday.
Officials say Horsham's best chances are Blatchford and Lester Mutch. Competitors must race in three heats to qualify for the final.
Other Horsham drivers will compete in Modified Saloon events at Hamilton tomorrow night .
SOURCE: The Wimmera Mail-Times 1984