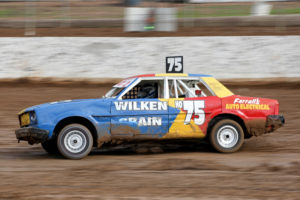 The Blue Ribbon Raceway season came to an exciting end with two massive days with over 100 cars racing; it was one of the most successful weekends this season.
Wingless Sprints featured with a massive field of 38 entries for the two-day event. Drivers put on a fantastic show for the spectators with many close and hard fought battles in the heats. Heat wins were shared among 8 of the drivers. The Team SZR took a clean sweep in the final on Sunday with V81 Rhys Baxter winning the final, followed by V7 Daniel Beard and V4 Andrew Chivel.
The local 3 Litre drivers Matt Gerlach, Keegan Duff and Steven Hateley had some tough work on their hands with visiting drivers, current Victorian champion Will Lamb and Bendigo driver Lennie Clark. Lamb took a clean sweep winning three heats along with Scott Mallon, Aaron Ahearn and Lennie Clark. Lamb started the final on pole alongside Lennie Clark and Lamb leading the race from start to finish. Lennie Clark finished second and Aaron Ahearn was third.
The girls were out in force to contest their annual ASCF Ladies Feature. Visiting driver Zooey Salau put it right up to local drivers Kathryn Wilken and Katelyn Eltze putting on some fantastic, close racing on the Saturday, each winning a heat. Alison Chrystie put a win on the board on Sunday along with Katelyn and Kathryn. With Kathryn qualifying off pole and Katelyn Eltze alongside, the two drivers raced very competitively for the 20 lap final, with Katelyn just making a passing move when the yellow light came on for a stoppage with 4 laps to go. With Kathryn back to the pole position she charged home to take the win in the final followed by Katelyn Eltze and Emma Wilken.
Street Stocks put on close racing between Richard Bansemer, Luke James and visiting Swan Hill driver Troy Polley, all sharing wins on the first day of racing. Bansemer proved unstoppable in the second day of racing notching up two heats wins and topping off his weekend by winning the final, showing his excitement with a few doughnuts on his victory lap.
Visiting Limited Sportsman driver Joe Aston was unbeatable on the weekend winning all 5 heats and taking a commanding win in the final. Craig Ansell finished second in the final followed by Jason Hurtly and David Denson.
Although with only 4 entries the roaring V8 trucks still put on a great show, 3 Litre driver Steven Hateley tested out his skills turning some laps in the HO67 truck usually driven by Jarred Carmen. Hateley notched up a win on the third heat of the first day starting out of 3 in the final. He was no competition for seasoned V8 drivers Luke James and Wes Bell who took first and second positions in the final, followed by Steve in third.
Mechanics races were back at Blue Ribbon Raceway, where drivers and crews can put a new driver or someone who has helped them in the season to see what it is really like. Brendan McGinniskin won the final in HO6 followed by HO7 Dean Cameron, HO17 Nathan Bird and HO8 Jamie Collins.
The club will now take a well deserved break as it prepares for another massive season starting up on October 19th 2013.