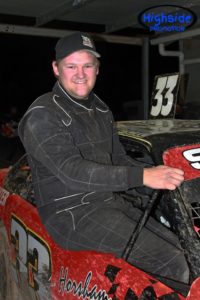 HORSHAM Modified Sedan driver Daniel Simpson wrote his own fairy-tale at Blue Ribbon Raceway on Saturday night, claiming the Victorian Title crown.
With a few withdrawals and a late nomination, 26 cars contested the Victorian Modified Sedan Title.
Simpson, a Horsham local, started out of Position Three for the final, behind Mildura racers Jake Drewett and Martin Hawson.
While Simpson earned himself the title of Victorian Number One, earlier in the evening Drewett owned the action, recording three heat wins from three starts, despite having car dramas, and rocketing himself to a pole position start for the feature.
Other heat winners for the night were Simpson, who took out Heat One, Darren Cockerill, Hawson (two heats), Jeff Leahy and Matt Nelson.
"I was stoked to start off pole because after the parade I was going to load it up as we knew we had a head gasket issue," Drewett said.
"Dad (Mark) just said send it and keep an eye on it which is what I did.
"The car was really strong for six or seven laps but would start getting really hot and the fail safes we put into the ECU after Kingaroy started dropping a lot of power out of the car which started to make it harder to drive, keeping it out of a mid push."
In the heats Drewett was able to open a big enough lead so that by the time his car began to shut down he was already in a position to win.
In the final Drewett got the jump on the rest of the field and was dominant early on.
"I knew Marty (Hawson) would be right there but knew he wasn't under me as I can hear his car when he is i was just hoping to lead as many laps as I could," Drewett said.
"I knew very well the chances of me finishing were pretty much none."
Hawson got around Drewett eight laps in and coming into lap traffic the Number 18 started to run hot and lose power.
"I lost my ability with the car to keep it rotated getting mid corner pushes," he said.
"I tried to baby it and hopefully make it to the end but the ECU went into limp mode to protect the engine from overheat and that was it for us."
With Drewett pulling infield it left Simpson to chase Hawson, but with only four laps to go Hawson also came to a halt infield.
"I'm really shattered for Marty because as most people know I'm probably one of his biggest fans," Drewett said.
"But Daniel Simpson – after seeing a bloke battle with so much bad luck who is one of the nicest blokes in speedway win in front of his home crowd was cool to watch."
Heading into the event Simpson said he was looking forward to racing in front of his family, friends and sponsors but after winning the event he described the achievement as "unbelievable".
"I wouldn't have wanted to have done it anywhere else," Simpson said.
Reflecting on how the night unfolded for the driver of the Number 33 Commodore, he said: "I had a really clean run through the heats and managed to win our heat from our front start and get into the top three with the two rear starts with no damage."
He took the first heat despite having mechanical issues.
"In the first heat the new gearbox I put in for the night was jumping out of gear so I had to hold it in with one hand for the whole race," Simpson said.
"So I thought that might have been the start of a tough night.
"Other than that we had some power steering issues causing smoke but we were able to get it fixed for the final."
Starting from Position Three Simpson lined up behind two of the Modified Sedan drivers he considers fastest in the country – Drewett and Hawson.
"Both are racers I respect a lot and I knew they would have been on it from the start," Simpson said.
"But I thought if I could stay close enough, lapped cars or them battling each other could work in my favour."
After Drewett's demise and then Hawson's exit, Simpson found himself briefly in a state of disbelief.
"It was a bit of a shock for a second or two, then my main focus was to push harder not knowing how close everyone else was," he said.
"I was determined not to throw it away from being conservative."
Simpson crossed the line and took the chequered flag to the cheers of the local crowd, a reception that was mirrored at the presentation after his win.
"It is definitely a career highlight and a special moment in general," he said.
"Nearly all club members and some of the people on the hill I have known since I was a kid, to see how happy they were with the result was extra special and it wouldn't have been the same if it was at another track."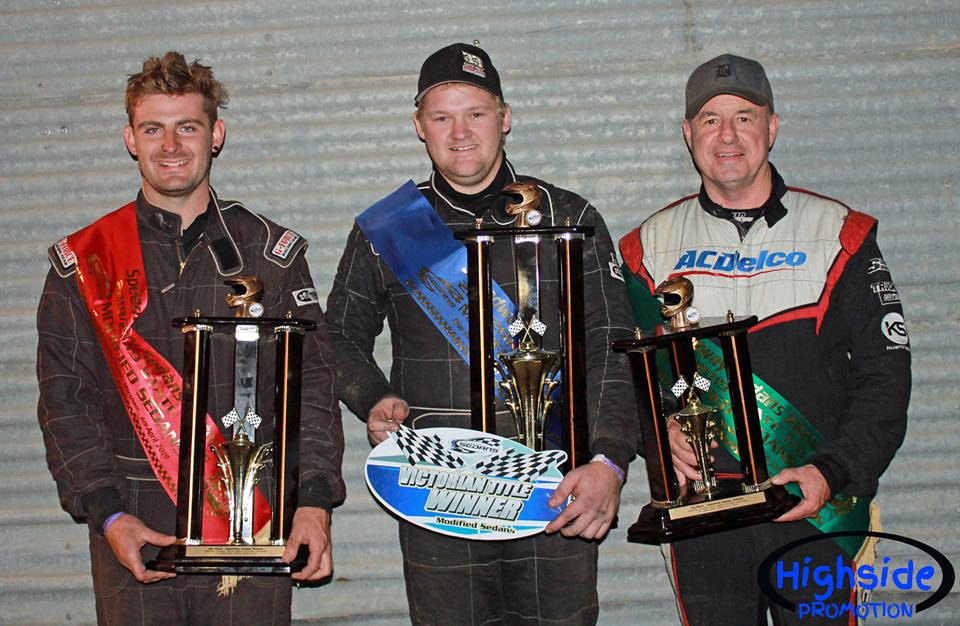 Simpson said the win was even more special with good friend Brody Chrystie claiming second place, while fellow Victorian driver Darren Cockerill, Andrew Blackwell and Kye Walters rounded out the Top Five.
Jeff Leahy, Mick Johnson, Chris Hayden and Peter McCarthy were the only other drivers to go the full distance.
Angelo Halacas completed 32 laps, Jakobe Jetson and Matt Nelson 20, Graham West 15, Aidan Raymont, Rachel Pratt and Russell Bent 13, Matt Gerlach and Russell Felsovary 12 and Dale Hallett two laps.
Saturday night's Title brings Simpson's racing season to a close, but he will be back next year with the Victoria One on his panels for the VMPA Series and to contest the Australian Title.