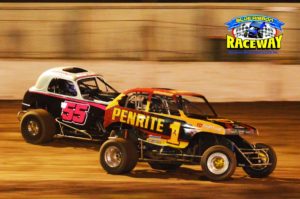 Blue Ribbon Raceway will be the scene for the return of the Mighty Mites of Speedway when the V8 Super Rods contest their Victorian State Title on May 5th.
Spectators will be on their feet with the always tight racing of these V8 powered machines that have evolved from the heavy hot rods of the past to now be the equivalent of a wingless V8 Sprintcar with engine capacities up to 5.5 litres (360 cu in) and the body of a Mini Minor or Suzuki Swift among others. Without the use of any aerodynamics these cars can prove to be hard to handle and the racing is sure to be hard and fast on the wide open Blue Ribbon clay.
With mixed results during the season and a number of different feature winners, the nod must go to the Vic #1 car of Andrew Howard to back up his win in last years title with wins at Portland, Avalon and Mt Gambier amongst others. Ewan McKenzie with wins throughout the season to go with a couple of DNF's at Portland and Simpson will be sure to be at the front of the pack with the always hard charging Michael Coad, Quentin Tanner and Howard Stansfield definitely making the going hard for Howard.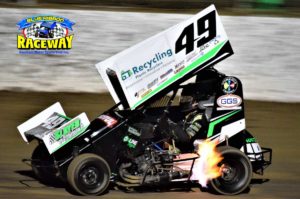 Also on the card will be the Victorian Formula 500 Stampede series final round for the season and as always these scaled down versions of a Sprintcar will have the crowd on its feet with their always hammer down style of racing.
Powered by two and four stroke engines with a capacity of up to 600cc the sound of these cars is unmistakable as they run full throttle for the majority of the race and lap times for these cars are some of the lowest of all classes. Close wheel to wheel action will be the order of the day and this can lead to spectacular incidents during the events.
Limited Sportsman will race for new prize – the Kevin Baker Challenge. Points will be awarded through out the heats for not only finishing positions but for passing as well. Points will decide the starting position of the final race and a new aggregate trophy will be awarded to the drivers with the most points from all races of the evening.
Three Litre Sedans and V8 Trucks and Limited are also scheduled to run on this the second last meeting of the year for the Horsham Motorsports Club in what has been a busy schedule with the Australian Title for Modified Production cars and a number of Victorian titles in other classes.
The club would like to thank all the fans that have and continue to support the club and allow us to bring some of the best racing to the Track in the Paddock.