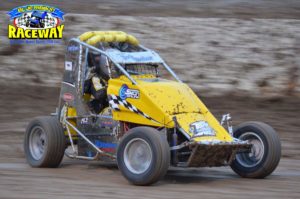 Horsham Motor Sports Club will wrap up the season at the Track in the paddock at Kalkee with a speedway carnival this Saturday and Sunday.
The annual two day race meeting will be held on Saturday 10th and Sunday 11th, with speedway drivers from across Victoria and South Australia racing on both days.
A big field Wingless Sprint Cars have nominated to race on the weekend, in what has become an annual feature race. The class is becoming as popular as the Winged Sprincars and, although not having the horsepower of the 360 and 410 cu inch cars, they make it up with aerial acrobatics due to the lack of the large aerodynamic wings on the cars, always a great show.
Continue reading Hot weekend at Blue Ribbon Speedway This Week End →