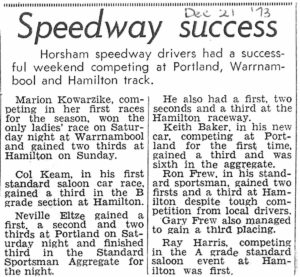 Horsham speedway drivers had a successful weekend competing at Portland, Warrnambool and Hamilton tracks.
Marion Kowarzike, competing in her first races for the season, won the only ladies' race on Saturday night at Warrnambool and gained two thirds at Hamilton on Sunday.
Col Keam, in his first Standard Saloon car race, gained a first, a second and two thirds at Portland on Saturday night and finished third in the Standard Sportsman Aggregate for the night. He also had a first, two seconds and a third at the Hamilton raceway.
Keith Baker, in his new car, competing at Portland for the first time, gained a thirds and was sixth in the aggregate.
Ron Frew, in his Standard Sportsman, gained two first and a third at Hamilton despite tough competitions from local drivers. Gary Frew also managed to gain a third placing.
Ray Harris, competing in the A Grade Standard Saloon event at Hamilton was first.
SOURCE: The Mail-Times December 21, 1973