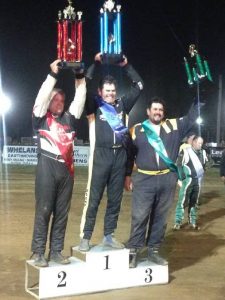 A trio of Wimmera car racing champions will return to Horsham after taking out the top three spots on the podium at the limited sportsman state title in Bairnsdale on Saturday.
Pimpinio's Jock Baker finished first in the the 25-lap race that features open wheeled cars.
Horsham's Adrian Christian finished second while Minyip's Adam Mckenzie made it a Wimmera hat-trick by taking out third.
All three drivers had their work cut out for them from the start of the final race, which followed three heats earlier in the day, as they started well back on the grid.
Baker got off to a flyer from the starting line and after just two laps had overtaken all three front runners to be in the lead. Christian and Mckenzie were even further back on the grid in eighth and ninth respectively. Both drivers worked their way forward for a second and third finish.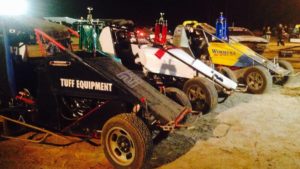 The win was Baker's first Victorian title after winning the South Australian championship in 2006. He said he new he would be competitive against the other drivers, despite starting from fourth.
"I had been mixing it with them all season, so I thought if I could keep out of trouble and keep my head straight it would work out," he said. "I got the lead after lap two, but then built on it as well. "I was confident I could do it because the car had been quick all night."
Baker said the achievement was made all the more enjoyable because he was joined by his two best mates, Christian and Mckenzie on the podium.
"It was absolutely awesome and to have the others there with me was great," he said. "We have had only one and a half hours sleep since last night and there are some sore heads this morning."
Christian said he was proud to have finished second in the limited sportsman top Australian race. "This is the top event we do in the whole country and the biggest race in our class for the year," he said.
"I didn't think we were going to get there starting from eighth but it all worked out. "There was a huge crowd down at Bairnsdale and they have an awesome set-up."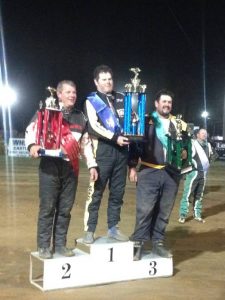 The racer also overcame engine trouble two weeks ago after racing in South Australia to make the starting line at the state titles. Mackenzie was also well back after a late nomination saw him start at the back during the heats.
The driver said he had not expected to finish on the podium heading into the final. "I was just hoping for the best and to make my way slowly forward," he said. "It was just about avoiding accidents and keeping the flow going as I worked towards the front."
By Jeremy Venosta