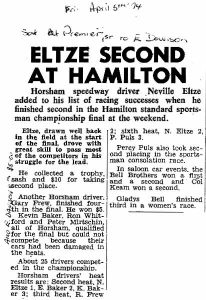 Horsham speedway driver, Neville Eltze added to his list of racing successes when he finished second in the Hamilton Standard Sportsman championship final at the weekend.
Eltze drew well back in the field at the start of the final, drove with great skill to pass most of the competitors in his struggle for the lead.
He collected a trophy, sash and $10 for taking second place.
Another Horsham driver, Gary Frew, finished fourth in the final. He won $5.
Kevin Baker, Ron Whitford and Peter Mirtschin, all of Horsham, qualified for the final but could not compete because their cars had been damaged in the heat.
About 25 drivers competed in the championship.
Horsham drivers' heat results are: Second heat, N. Eltze 1, E. Baker 2, K. Baker 3; third heat, R. Frew 2; sixth heat, N. Eltze, P. Puls 3.
Percy Puls also took second placings in the Sportsman consolation race.
In saloon car events. The Bell Brothers won a first and a second and Col Keam won a second.
Gladys Bell finished third in a woman's race.
SOURCE: The Wimmera Mail-Times April 5, 1974