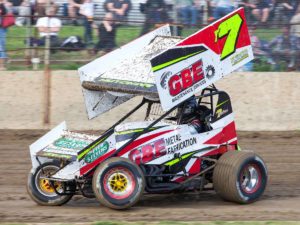 The Sprintcar Racing Association of Victoria is returning to Blue Ribbon Raceway at Horsham this weekend for the penultimate round of the 2016-2017 Eureka Garages & Sheds Sprintcar Series that is still a wide open affair for the Eureka Series Championship Crown between five drivers.
The current Eureka Series Champion Brett Milburn took the Eureka Garages & Shed / KTM points leads after round thirteen last weekend at Premier Speedway from Tim Van Ginneken who had two bad nights in a row but still sits only one hundred and ten points behind Brett Milburn.
With a possible four hundred & thirty points on offer at each round of the Series, the top five drivers in the points Brett Milburn, Tim Van Ginneken, Corey McCullagh, Glen Sutherland and Brayden Parr are only separated by three hundred & ninety seven points, all these drivers are still in with the chance to take this seasons Eureka Garages & Sheds Title with this weekend's Horsham round and the Series Grand Final one week later back at Premier Speedway.
There is so much on the line for each of the drivers nominated this weekend to race for, a few drivers that can still make it into the KTM top ten and have a shot at winning a brand new 2017 KTM motorbike at the presentation dinner thanks to Jeff Leisk and KTM Australia.
For the drivers that don't make the KTM top ten and finish between eleventh and twentieth place in the points also have a chance to pick up $1500 from Western Nissan in Caroline Spring plus many other sponsor awards are still up for grabs.
Many of the drivers nominated for this round of the Eureka Garages & Sheds Series have not raced at this venue before or for a long period of time so the challenge is to finds a good setup for their sprintcars to get the best drive out of the track.
Two drivers that travel to Victoria each weekend are Tasmania's Tim Hutchins and Western Australian's Scott Reilly, both will be having their first run at the Blue Ribbon Raceway venue but they should adapt without too much trouble.
South Australia's Glen Sutherland has been a bit of regular up at Darwin's Speedway each season and the experience he gained there with some good results should be valuable as the size and surface at this venue is similar.
Dennis Jones will make the trek from Morwell, Dennis has been in good form of late with some very good performances, at the Simpson round last weekend Dennis was the top point's qualifier going into to the Eureka Series A Main.
From the twelve rounds of the Series conducted so far there have been nine different winners and another new winner is on the cards this weekend with the level of competition nominated. Corey McCullagh is the only driver nominated so far that has won two rounds of the Series this season.
The young guns Brayden Parr and Jordyn Charge have been giving some of the more established drivers a run for their money with Brayden in the points top ten and Jordyn less than one hundred points out of the top ten.
Terry Kelly, Adam King, Charles Hunter and Jacob Smith always make their presents felt at each round of the Eureka Garages and Sheds Series.
Other regular drivers that have entered are Ballarat's Rod Matthews and Sam Wren along with New South Wales peddler Eddie Lumbar, David McKay, David Aldersley and a new driver to the Series this season Stephen Spark.
Two other notable drivers in the field are Brad Warren who could be a dark horse at this event, Brad has been strong at some of the rounds this season, a strong result will not be surprising and Brad will be joined also by Michael Tancredi, Michael was the 2015-2016 Victorian 360 Sprintcar Champion but has been a regular competitor in the open Sprintcar ranks and he has been a recent competitor at Blue Ribbon Raceway, that could be an advantage!
This Saturday night the 18th of March Blue Ribbon Raceway Horsham will present the penultimate round, round fourteen of the Eureka Garages & Sheds Sprintcar Series. For more information go to www.blueribbonraceway.com.au
SOURCE SRA Victoria