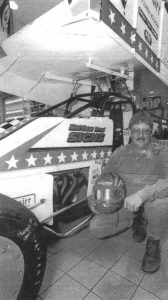 Sprintcars will make their debut at Horsham's Blue Ribbon Raceway for round five of a Sprintcar Racing Association series tomorrow night.
More than 20 Sprintcars from across the state will join Street Stocks, Three-Litre Modifieds and A Modifieds in a milestone meeting for Horsham Motor Sports Club.
The sprintcar series features more than $116,000 in cash and prizes, including $6000 for the series winner.
Last season's champion Matthew Reed took the lead after a fourth round win at Avalon International Raceway, Geelong.
Reed won the opening round of tire series on a tight track at Nyora and has proved consistent on a variety of tracks.
He goes into the Horsham event as slight favourite ahead of second placed Tim McCubbin, son of 1970 Australian speedway champion Graeme McCubbin.
Tim McCubbin's first win in last season's championship came at the debut meeting of Swan Hill Speedway, so he will be hoping to repeat the effort in Horsham.
Another driver for fans to keep an eye on will be Darren Walsh from Cobden. Walsh; a friend of series leader Reed, is a talented steerer and sits fourth in the championship.
Mike Van Bremen, alias 'The Flying Dutchman' has- driven without luck so far in the series and is set to break through for a win. Van Bremen's flying number six Foster led every racing lap in round through but was disqualified when a muffler broke and he was over the noise limit.
The series was developed three seasons ago to promote club-based racing and foster new driving talent across Victoria.
One of the finds of last year was Mt Gambier's Gerard 'Lightning' Boult, who won two rounds of the series last year and also the 360 Victorian championship. Boult has now lost his Victorian crown to Mildura's Greg Mattschoss but both will be on the Horsham track this weekend.
Elder statesman Phil Johnson will also be on the Blue Ribbon track. Johnson heads the list of all-time series wins and, armed with a new Tognotti, might be a real threat tomorrow night.
One unknown factor in the race will be the track itself. None of the drivers have raced there before, so everyone will start on the same keel.
The 16-car, 25-lap feature race should provide plenty of fantastic action from these winged warriors.
-Brett Swanson
SOURCE: The Mail-Times January 2, 1998