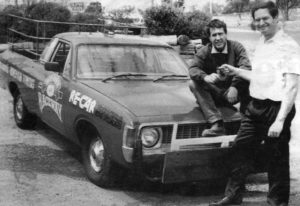 The canteen is in place, the toilets have arrived and Horsham Motor Sports Club members are ready to roll with the official opening of their new Blue Ribbon Raceway on Saturday night. A church minister will bless the track during an opening ceremony and district drivers will be introduced to the crowd before cars roar into action.
The opening, from 7pm, will mark a triumph for club and community workers who have devoted countless volunteer hours shaping the new track and surrounds on the Blue Ribbon Road, north of Horsham.
The club ran a handful of meetings last year and members have worked hard during the winter to upgrade facilities.
"A supportive community has helped provide improvements including a toilet block from Melbourne and a canteen from the Wimmera Machinery Field Days site", spokes-person Di Bell said. "And generous, sponsors have made it possible for the committee to secure Victorian Sprint Car Titles on February and a round of the Hot Rod series on February 15 and a around of the Victorian Super Sedan Series on the March long weekend.
"And for extra thrills and spills Formula 500s will feature at a meeting on December 14."
Big crowd
The meeting on Saturday night will feature racing in Super Sedan, A Modified, Three Litre, Street Stock, Limited Sportsman and women's classes and. a new junior division.
Club leaders were disappointed when Sprint Car representatives pulled out at late notice."We're expecting a big crowd," secretary Pam Ellis said.
"Rintoules are running a bus out and back from Horsham for kids or people who don' t want to drive." Carman's Motor Bodyworks in Horsham has also jumped behind the club and given a Valiant ute for crash crew members to use as a push car for stalled vehicles.
SOURCE: The Mail-Times November 20, 1996