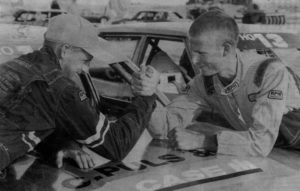 Fans at Horsham's Blue Ribbon Raceway flocked to see Australian Motor Car Association cars in action for only the second time in Victoria.
Raceway publicity officer Di Bell said many drivers and crew members competing in other classes were keen to inspect the new class of speedway cars. AMCA races promote drivers' ability rather than technological know-how. Only 250cc V8 Holden engines are allowed.
"The AMCA drivers had brought caps and other giveaways to hand out after each race," Mrs Bell said.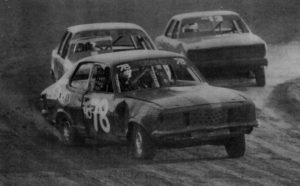 "This created quite a rush at the 'gates waiting for the races to finish and the pit gates to open for the public."
Mrs Bell said the AMCAs were a hit with the crowd despite only four cars attending. Many cars were unable to make repairs in time after racing at Bendigo the previous Wednesday.
The club's second best crowd of about 900 spectators attended · the Horsham Motor Sports Club meeting in warm weather on Saturday night.
Results
Three LItre: R. Burrows I, D. Clarke 2, L. Bell 3
Street Stocks: S. Ellis, G. Puis, D. Thomas
Combined A Modified and Super Saloons: N. Eltze, P. Mason, R. Buckley
Limited Sportsman: G. Ross, P. Baker, R. Tyler
Ladies: T. Davies, W. Duff, S. Watts
Ben Rabl and Daniel Lawson won rides in a speedway car.
SOURCE: The Mail-Times January 8, 1997