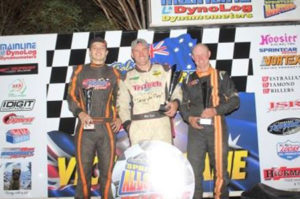 Round 7 of the Mainline DynoLog Dynamometers All Star Series will be run this Saturday night at Blue Ribbon Raceway, Horsham. The Series heads to their 6th race track in 7 shows. "So many different tracks challenge's every driver and keeps everyone on even ground – no home track favourites for our guys!" Searle tells us.
"We love to take our show to so many different tracks & fans and show off our talented drivers. Blue Ribbon Raceway is an awesome track to visit. The Committee have done so much work there over the past couple of seasons and it is their opening night for their season so all the town will be excited."
February is going to be full on for all the teams with 5 shows in the next 4 weekends. Similar to the JSR King of the River which held 5 shows in 5 weekends, this will be an exciting time for all the All Stars.
Current series champ is also the current series leader Brenten Farrer has a marginal 3 point lead over Chris Solomon. Farrer's V34 Frijtek ART has been consistent all season and this is paying off for the 26 year old. Solomon driving the Bartlett Racing Teams SA75 Cool will be trying to secure top points and take control of the Championship.
SA5 Trigga Gates has rebuilt a car after crashing hard at Adelaide Motorsport Park last weekend keeping the team busy during the week. SA76 Brayden Cooley, SA69 Cody Atkins, SA56 Jarman Dalitz, V18 Anthony Foster, V24 Dan Ellis are all rookies to the series and have all been showing great improvement and are all looking forward to the night.
Dan Evans's SA44 has been swapping engines between 410 and 360 and also had a successful run in his Wingless car last weekend and in doing so keeping himself race fit . Then there are the series veterans V7 Paul Solomon and Phil Lock's V4 Cool who both love Blue Ribbon Raceway.
"We will be fundraising for the Safe Steps Domestic Violence organisation and raffling a push bike on the night. Keep your eye out in the crowd for the All Star team to purchase tickets and donate to this needy cause.
Domestic Violence is a major problem in our community and the more open we can be about it the better for everyone concerned." Mandy says.
Giveaways for the kids, driver autograph signing and exciting racing – what else can you wish for on a Saturday night. February 4th Blue Ribbon Raceway, Horsham , Blue Ribbon Rd, Kalkee – 18k north of Horsham. Hot Laps start from 6.00pm.
SOURCE: Sprintcar Allstars February 3, 2017