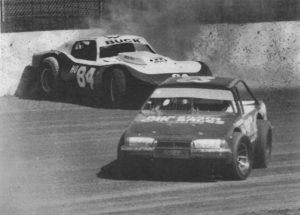 About 27 years ago Horsham Motor Sports Club members started lobbying to build a speedway track in the Horsham area.
When cars start belting around the club's new Blue Ribbon Raceway at Kalkee about 7pm on Saturday, their dream will finally come true.
The club's inaugural speedway meeting is the culmination of a lot of lobbying, a fair bit of controversy, a great deal of hard work and about $100,000.
Club president Robert Tucker said last night members started work on the track about 12 months ago.
"In 1990 the Horsham Motor Sports Club reformed after a recess and from there its been a matter of finding a suitable venue," Mr Tucker said. The club originally advertised plans to build a speedway at Dooen on the Henty Highway north of Horsham.
But Wimmera Shire Council received more than 80 objections to the proposal and the Planning Ministry said Dooen land classification did not allow a speedway.
The shire gave the club the green light to build a speedway at Kalkee, about 20 kilometres north of Horsham, in September, 1993.
The club leased land owned by district farmer Laurie Smith and is still negotiating to buy the land.
"We have been out there for most weekends for the past 12 months", Mr Tucker said. "There was a lot of cleaning up to do on the old site. We had to take out fences and a few old buildings had to be removed. "Then about 10 months ago we started construction."
Club money-raising and sponsorship from Horsham, Warracknabeal and Beulah businesses helped pay for the $100,000 facility.
About 40 cars from Horsham, Ballarat, Mildura, Portland and SA will hit the sandstone-clay mix track on Saturday.
Raised banking for spectators surrounds the track. Spectators will be protected by a concrete and chain wire fence which also circumnavigates the track.
Races will be run both clockwise and anticlockwise around the 410 metre track. Events this weekend will include the high-profile Super Sedan, Street Stocks, Limited Sportsman, Modified Production and Women's sections.
The club will use a 20 metre light tower which is unique to Australia during the race meeting.
The temporary tower, imported by an Adelaide company, includes 16 1000 watt lights with the power to illuminate nearly three hectares.
Mr Tucker said spectators at the first Blue Ribbon Raceway meeting should bring deck chairs or blankets to sit on.
"Wherever you sit around the speedway you can see the whole track and the event is fully catered," he said.
Gates will open at 4pm on Saturday with racing set to start at 7pm. Entry is $10 for adults, $5 for children and pensioners and $25 a family.
SOURCE: The Mail-Times March 27, 1996