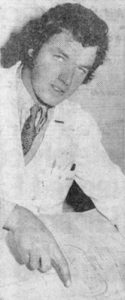 Horsham Motor Sports Club Vice-President, Mr. Barry Hunt, points to details on plans of the club's proposed $35,000 speedway at Dooen.
The club is ready to start earthmoving at the track beside the Henty Highway. The half-mile track will include 100-mile-an-hour straights and a large spectator area.
Spectators will be protected by high safety fences. The club hope to begin racing at Dooen later this year.
SOURCE: The Mail-Times 1973?