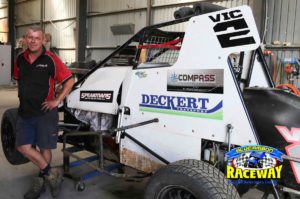 The very first time Adrian "Horse" Christian drove a race car, his daughter Grace stood on the sidelines crying hysterically, worried something would happen to him.
Now, she's one of his biggest fan and yelling at him to go faster!
Adrian raced in the Formula 500 class for five seasons and after driving his mate's Limited Sportsman, he brought one, swapped classes and sold his F500. This is his 3rd season.
Adrian is currently ranked as Vic 2, he had his first feature win last weekend and has had no major stacks; so he goes alright.
"I bought a car when first got into the Sporties, but only raced it a handful of times before I started building one.' said Adrian. Some of his best mates race Limited Sportsman; Adam McKenzie and Jock Baker and along with Ash Hicks, they all pitched in to get his car on the track.
He is running Mick Rizzoli's engine this season, who has retired from the class after a spectacular rollover last season in Hamilton. A Diesel Mechanic by day, he loves racing as it gets him away from work.
"My family love it. Tanya, my partner is my number one pit crew and car washer. Grace now loves the sport and Makenzi and Harry line up and help when needed. We love it!"
The biggest challenge Adrian has with racing is the car set up. Each track is different, then the track changes, 'There are so many variables; The car set up, the track, other cars on the track and then the way I actually drive the car. You can't think of anything else other than racing."
Adrian loves the class and racing with his mates. "I just want to beat Jock, it's everyone's goal to beat Jock!",  he says laughing as Jock welds up his axle. That's what this class is all about. They keep each other's cars running, source parts, compete and celebrate their wins and losses.
Adrian needs to thank his sponsors – Deckert Group, Speakmans Auto Electrical, Compass Powder Coating & Metalworx, Wimmera Bearings, Horsham Heavy Vehicle Repairs, Macchia Jewellery, Wimmera Engineering, Porky's Tassie Tyres​, Millers Contracting and Horsham Hydraulics.
The Limited Sporites are racing this Saturday night at Blue Ribbon Raceway.