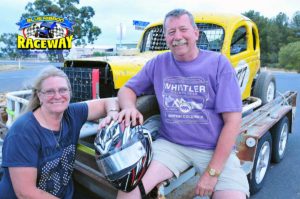 Mark Cowin is a veteran of Speedway. He has been involved in Speedway since the 70's and after living in Canada for 35 years, he has settled with Beulah.
Mark's partner Leanne Shanks is co-owner, co-driver and co-suffer of Classic Stock Car 77.
"I've been involved with hotrod speedway since grassroots level. Back then they'd whack a few bars around you, a lap-belt and send you out on the track. Things have changed a lot since then", said Mark.
"I actually raced against this car years ago. Maurice Moss owned the car until the mid 80's and then it disappeared from the race circuit, until recently when a member of the 'Aces of Spades' Vintage Speedway Club found it at a dairy farm in Cobden. It was in a mess (see image). But we got stuck into it and had it rebuilt and on the track again within six weeks."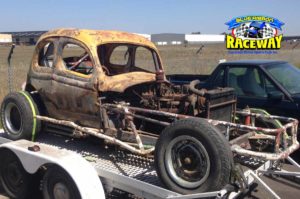 Mark has been photographing speedway racing since 1971, and has even done a little stink of NASCAR racing while living in Canada.
The Car…. Well it's a home built Open Model 1934 Ford, with a 60's era six cylinder Dodge flathead engine. It's got a three speed gearbox from a similar era and has Holden FB running gear.
Being involved with speedway most of his life, I guess you can say it's in his blood well and truly now.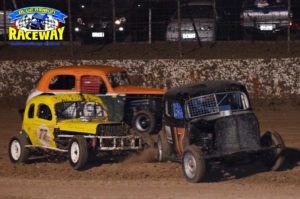 Not only is he a member of Horsham Motor Sports Club, but he is also a member of the vintage speedway club, Aces of Spades.
"The friendships you make through speedway are lifelong. It's like family", Mark says.