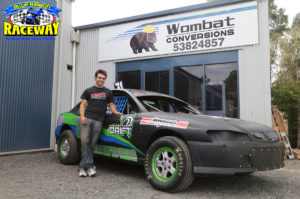 Micka has literally grown up on at Blue Ribbon Raceway. The late Jenny Simpson, would pack up Micka & her son Dylan from about the age of 4 and take them out to watch the speedway. From the age of 12, Micka started nagging for his own car to race – which didn't happen. So he volunteered at the track until he turned 18 and begun to race.
This is Micka's second car. The first, a XF Falcon Street Stock was written off on the track. The wreck had to be craned off the track, they attempted to rebuild it but it was too far gone.
With the encouragement of fellow Horsham club member Neil Watson, who taught Micka the ins and outs; they took Micka's mums car, a VZ Commodore and 'Modified" it a little. Mum is now driving a Ford Escape, so it's pretty safe to assume it won't be seen on the track at anytime in the future. The family car is now a Modified Production sedan. These cars only go in one direction and the car is set up on a camber (an angle) for better performance. Micka's pretty lucky, his family support his sport and his father Steve who owns Wombat Conversions did most of the metal fabrication.
Micka loves cars and it's been a life long passion working with cars. Even after recovering from a dislocated knee, he is all smiles as he drives the car around the front of the shed for a photo. With this car being so new, plans for the off season may be getting a car set up for his girlfriend Kiarna, who is going to go for a spin on the June Long weekend.