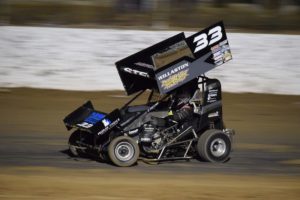 Saturday night saw a full house at Blue Ribbon Raceway for a great night of open wheel action to start the new race season off in great style.
Featured events for the meeting were the Formula 500 for the continuation of speed weeks. 33 cars made their way to Horsham from the previous nights action at Hamilton, with most teams arriving with few issues from the nights action.
The formula 500 cars look very similar to Sprintcars with their large wings but are powered by 500cc motorbike engines and the speeds are impressive. With the formula cars divided into three fields and competing in six heat races the action began early with perfect weather greeting the race crews and spectators alike.