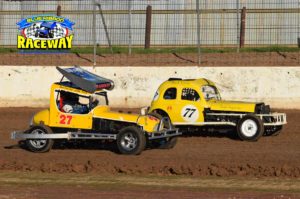 With 21 cars attending the final run for the season it was certainly a trip down memory lane for some of the older speedway fans up in the crowd over the two days of demonstrations.
We had several older guys actually pay to enter the pits on the second day just so they could be up close and talk amongst the drivers about there days gone by. They all went away Sunday night with the thought of "if only I could find a car" ,and I'm sure today they are still talking and thinking about it.
Horsham threw the typical June long weekend weather at us with thick fog and 2° temperatures through till 11am then seeing the sun shine till 5pm before it started repeating the night before hands weather pattern. The track was soft, slimy and very wide as usual,but lots of fun none the less.