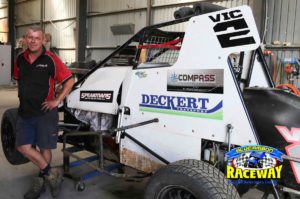 The very first time Adrian "Horse" Christian drove a race car, his daughter Grace stood on the sidelines crying hysterically, worried something would happen to him.
Now, she's one of his biggest fan and yelling at him to go faster!
Adrian raced in the Formula 500 class for five seasons and after driving his mate's Limited Sportsman, he brought one, swapped classes and sold his F500. This is his 3rd season.
Adrian is currently ranked as Vic 2, he had his first feature win last weekend and has had no major stacks; so he goes alright.