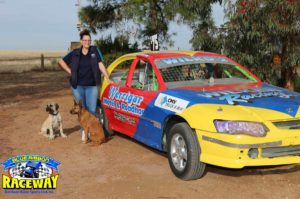 Name doesn't ring a bell? No? Kathryn isn't new to racing, this is her 11th year. Up until a few months ago she was Kathryn Wilken. Kathryn made sure she had the race car mechanic work secured for life by marrying her mechanic, Brendan, who she met 10 years ago at the Blue Ribbon Raceway.
Mwah… a love story that started in the pits.
Kath races in the Street Stock and Ladies class in a VZ Commodore shell with the VT running gear. Her Dad, Richard Wilken was the first one of the Wilken family to get involved in the Speedway.
Kath was 14 or 15 the first time she jumped behind the wheel. Luke "Redda" James taught Kathryn everything she knows about racing… She tells me she is just the "Steering Wheel Attendant", everything else to do with the car is taken care of by her hubby.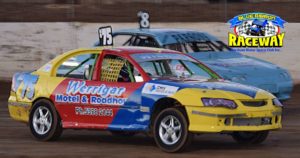 This actual car is in its third season, but it hasn't been smooth seas. The second season involved an engine rebuild and it's first run this season was the Australian title at Redline Raceway. She ran again in Swan Hill and did really well. The car felt great and she is very keen to hit the home turf this weekend and put her through the paces.
"It's fully additive! We eat, breath and live Speedway. The rush is amazing!", says Kath. She loves the "Streeties', "It's fast paced and it makes you push yourself harder". She absolutely HATES going clockwise. But, she has learnt over the years just to suck it up and do it.
Kathryn is also a Committee member and works in the pit box before the race meeting, making sure all the drivers are signed in before they race. Race day is very busy for Kath; she literally gets changed in the pit box, jumps in her car and goes.
Kath really did turn her can'ts into cans and her dreams into plans…