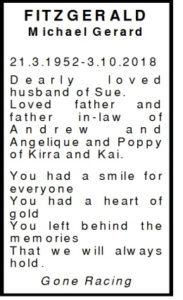 Dear Members, Clubs and Friends
If you are part of a Club or Racing Team, etc. you are invited to wear your relevant uniforms or colours, others attending are invited to dress in neat casual.
You are also invited to share your memories of Mick at the celebration with those gathered during precedings. However if you wish to have something read out on your behalf, please send the information to sec@blueribbonraceway.com.au.
If you would like any further information, please contact Horsham Motor Sports Club or Horsham & District Funerals.