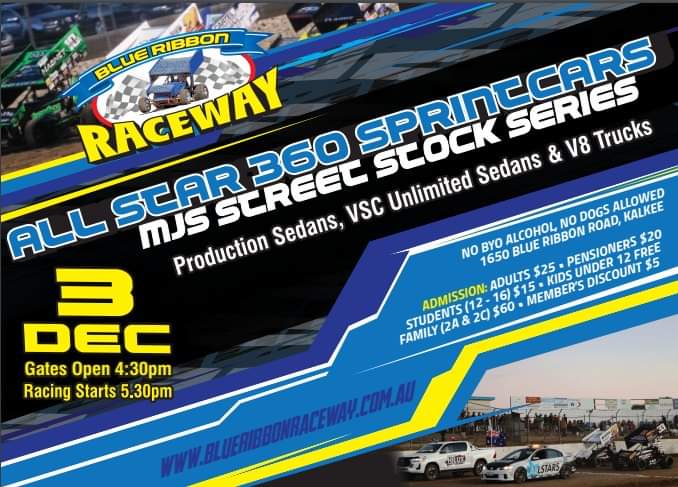 The Mainline Dynolog Dynamometers 360 Sprintcars are set to return to Blue Ribbon Raceway for what will hopefully be their season opener after multiple rain outs have postponed their season. Everyones fingers are crossed that the wet weather holds off for Blue Ribbons opening night of their season.
The MJS Street Stock Series are set for round 2 of their series, after holding Round 1 in Whyalla a couple of weeks ago. With a nomination list of over 20 cars so far, this will be sure to put on a good show for the spectators, and some tough competition for the competitors.
Support classes include the Blue Ribbon V8 Trucks, Production sedans and VSC Unlimeted Sedans.
The members of the Blue Ribbon Raceway have had a difficult time in the off season, dealing with excessive amounts of water on the track, and wet conditions making it hard to do our usual off season maintenance. The Club looks foward to getting our season underway and fingers crossed the weather doesnt cancel another race meeting in Victoria for the rest of the season.
The club would like to thank the following sponsors for their support this season. Wimmera Bearings, Burson Auto Parts Horsham, Bigham Truck Repairs, Wilken Group, Carmans Towing and Windscreens, Wimmera Bakery Dimboola, Petrogas Horsham, Millers, Bondys Contractors, Horsham Injector Service, Ace Radio Network, Wimmera Mail Times, Johnsons Merchandise, Horsham Auto Wreckers, Westonvic Waste, Dooen Hotel, Mick Harrison Signs, Wimmera Security Service, Simpson Fire Motorsport Safety, Crop Opti