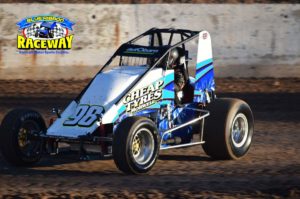 Despite a few setbacks with the weather this season Horsham Motorsports Club wrapped up their 2016/17 schedule with a stellar week end with their Winter Speedway Carnival featuring Wingless Sprintcars, Limited Sportsman, Three Litre sedans, Ladies, Juniors, Street Stocks and open sedans and the annual visit of the Vintage heavy Hot Rods, Stock cars and the addition of a new class of vintage sedans (Tin Tops) debuting for the first time at the Track in The Paddock at Kalkee.
Day one on Saturday saw a thick layer of fog settle on the facility as the very capable and dedicated track crew worked their magic on the track surface and as drivers gathered at trackside there were a lot of nodding heads and knowing glances as lines were looked for well before the rubber hit the clay.
With nominations for the event numbering almost 120 cars already in the books the club was thrilled to have over 130 cars in the pits by race time due to the cancellation of a meeting in Sydney and last minute decisions by others to have another "Kick at the Can".
Continue reading Cool Weather and Fog add to a Hot Weekend of Racing →