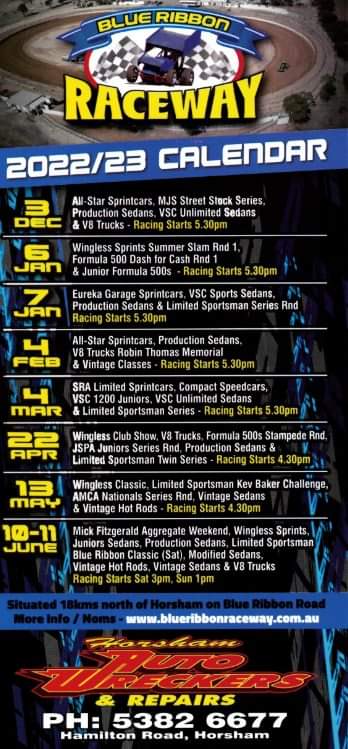 Blue Ribbon Raceway is set for another action packed season, with the return of the All-Star Sprintcar series twice, the Eureka Garages Sprintcars and new this season the SRA Limited Sprintcars. Also for the first time this season Horsham Motorsports Club is hosting the first night of the Wingless Sprint Summer Slam, which is held every January over three consecutive days. The club will once again run the "Wingless Classic" in May. Once again the Formula 500s will contest one round of their Stampede Series in April, but also joining the Wingless Sprints in the Summer Slam, for their Dash for Cash. The Dash for Cash runs every night with the Summer Slam.
There are some rumours that we will see a few more of our own V8 Trucks hit the track season, with the possibility of 10 being registered this season, this will sure make for some good racing and set some new challenges for the usual drivers that contest at most of our meetings. The trucks are also having a run in Hamilton on Jan 14 and also making a long awaited return to Swan Hill on the March 25.
The Street Stocks return for MJS Street Stock series on Dec 3, and as always this should attract some quality drivers and some quality racing. The Limited Sportsman are a key supporting class of Blue Ribbon Raceway, and with the annual Kev Baker Challenge once again been run, is sure to attract a good number of cars as it has in previous years.
With multiple support classes having a run this year, supporting our feature Events, this will bring a good variety of racing, from the cars of yesty year in the vintage right through to Production Sedans, AMCAs, and the up and coming Juniors learning and improving their skills to hopefully keep our great sport alive for many years to come
(All support classes subject to change if situations arise that are out of Blue Ribbon Raceways control)