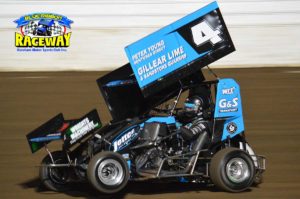 Action packed motor racing is expected this Saturday night, when Horsham Motor Sports Club host the Victorian Formula 500 Track Championship.
A good field of race-cars is expected, as it is the second last race meeting for the Formula 500 drivers. Results of Saturday night will go towards the season championship tally which is very close, so drivers will be vying to better their position in the standings.
The crowd pleasing Super Rods will also feature on Saturday night. With all of the racing pedigree of a Sprintcar style chassis, large racing tyres and V8 engines, they have the unique appearance of small cars such as a Suzuki Swift, or Morris Mini plus others. Seasoned driver Ewan McKenzie of Peterborough will be a force to reckon with after a recent win at Warrnambool's Super Rod Cup.
The nomination list also features the likes of Troy Gleeson of Laang, Michael Coad of Warrnambool, and Jason Kavanagh, who have all been very successful through out the season.
Vintage Hotrods from across Victoria and South Australia will race on Saturday night, giving motorsport fans a window to see speedway of yesteryear. The demonstration class is growing in popularity with an increasing number of cars being restored. Horsham's Steve Ellis and Ballarat's Ross Burrows will both display their recently restored Holden Toranas when they race with the Hotrods for the first time.
Also supporting the event will be Three Litre Sedans, Limited Sportsman and V8 Trucks.
Gates will open at 4:30pm with the action to start at 5:30pm.
Admission is $20 for adults, $15 for pensioners and $10 for students.
Children under 12 get in for free.