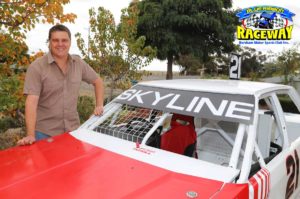 Jamie, the Rev-headed nerd. The maverick, who has something different out on the track. Most people race Commodores and Falcons, but Jamie wanted to have something a little different.
Jamie has a Nissan Skyline racing in Street Stocks. The rule book allowed for it, so over two years he built one. He purchased a car that was partly built, but Jamie being the perfectionist he is, changed things to make sure it was the way he wanted it to be.
It is the only Street Stock Nissan Skyline this side of Australia.
If you have a chance, stick your head into this car. It's SO neat.
Jamie unfortunately hasn't had the luckiest start to his racing career. Out of about fifteen starts, twice it has been seriously damaged. He put it into the wall at Hamilton and rear-ended another car in Ballarat. "The car and I are both learning", he said. "Hopefully my luck has changed for the better".