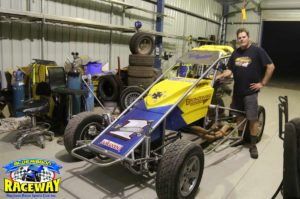 Jock Baker is all smiles. I met him in the workshop and up high is a Trophy Cabinet that is full. He tells me he has a pool room at home that has quite a collection as well.
Jock's pretty good at this speedway thing. He is the current Victorian Title holder for the Limited Sportsman class. Number 1 in Victoria and Number 2 in South Australia, due to a mistake that put Jock into the wall, but he still bounced back to come Second.
So, a Limited Sportsman is a Victorian / SA Class that was formulated here in the Wimmera by local retired driver, Kevin Baker. Originally, they were made from Standard Sportsman and Heavy Hotrods. Jock's car has been purpose built.
The engines in these babies are similar to the Three Litre sedans, and the Holden 186 cubic inch seems to be a popular choice. One of the few difference is the engines have to run methanol for fuel.
Jock has been racing for 23 years! He Started in a Limited Sportsman, swapped over to a Formula 500 for five seasons, had a few seasons off and this is the first season with this car on the track.
Next weekend he races in Hamilton and if he finishes in the top three there, we has taken a clean sweep this season and will the Overall Victorian Series. He won the SA title 10 years ago and came second in Victoria and this season he has reversed it.
Jock does most of the mechanical work and his pit crew has his brother Dean, his kids Thomas & Emily and his brother in law Ashley Hicks. It hasn't always been so successful. He once rolled end to end and broke his back in 5 places. A week and a half in the hospital at Warrnambool and it was only 8 weeks later he was back racing. He loves the speed, loves racing with his mates. Jock's two kids, Emily and Thomas love the sport. They are keen to get out in their Quarter Midget.
Being so new, Jock's car doesn't need much done to it in the off season, so he is planning to fish, he tells me with a smile !