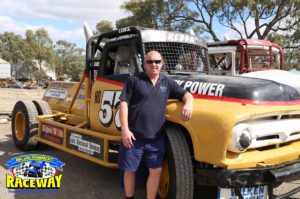 It seems that Luke, or Redda as he is known – just can't get enough of trucks! He spends his working week driving a fuel tanker and carting grain then spends his weekends racing his boss' V8 race truck. Redda is on fire this season, the 1956 Ford with a 327 Chev is yet to be beaten.
Redda's racing career started in a TE Cortina at the age of 17, and when the opportunity to drive a V8 truck came up – he grabbed it!
This truck has been discussed in detail with enthusiast debating as to what makes this truck go so well. The 327 Chev engine has been checked and sealed, (all vehicles on track have to have this done before NASR registration) and the only other difference being that this truck is the only one currently running an automatic transmission.
Truck owner Richard Wilken tells me it's the combination of a great truck and great driver that has it competing so well!