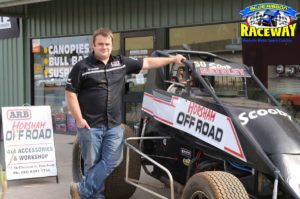 This is new to Steve. Not Speedway, but the Wingless Sprint!
Up until just before christmas, Steve was in a 3 Litre Sedan. I'm told these are a step up from the Limited Sportsman but closer related to a Sprint Car. They have big fat tyres and the modern suspension used by Sprint Cars. The engines are limited to a stock Commodore V6 and all the cars in the Wingless Sprint class are pretty much the same. So winning comes down to driver and set up of the car.
There is no gear box. You jump through the roof, Daisy Duke style then put it in gear and go. These things weigh almost 600kg and have between 250-300hp. Steve tells me they go fast. His races have all been a bit of a blur so far!
A mechanic, owning Horsham Off Road, he has both the mechanical and driving skills needed to keep this thing on the track. They put between 18-20 of these on the track at one time, so already there has been a little bit of damage to the car.