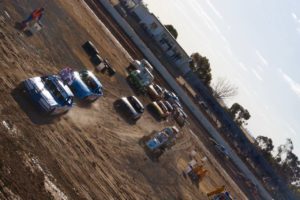 Blue Ribbon Raceway opened for the first night of racing for the season on Sunday. A large crowd of about 550 people attended the Kalkee speedway to witness the third round of AMCA Action Series.
AMCA racing was contested across two heats, which decided the starting positions for the final race.
Geelong's Frank Thierry and former V8 Supercar driver Darren Hossack favoured the challenging surface of Blue Ribbon Raceway, with the two drivers winning both of their respective heats.
Jamie Mills and Paul Sullivan also drove well during their heat.
The AMCA feature race was run across 20 laps.  Mills lead the field for the first half but it was Thierry who was successful by taking the lead after eight laps.  Sullivan followed Thierry closely to earn second place while Geelong driver Jamie Collins worked his way through the field to finish in third.
Also featuring on Sunday night was the Three Litre Sedans.
Bendigo Driver Adam Monti won the first heat but it was favourite Will Lamb of Daylesford who comfortably won the second two qualifying races.
The feature race was run across twenty laps, with Monti taking the lead in the early going. But Lamb overtook him after two laps and marked his dominance on the track to eventually salute the victory.
Swan Hill driver Troy Simpson earned second place with Monti in third. Horsham's Steve Ellis worked his way through the field to finish just off the podium in fourth.
There were also several support classes on the night, with Limited Sportsman racing three heats on Sunday.
Pimpinio driver Jock Baker showed off a newly-built race car, winning two of the heats. Minyip's Adam McKenzie also placed well claiming two second places.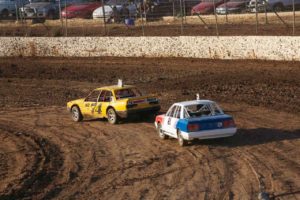 A mixture of ASCF Ladies, Street Stock and Modified Production Sedans were represented in the Open Sedans.
Steve Ellis of Horsham showed the rookies how it was done while Jade Olds of Natimuk and Jamie Collins of Horsham were content gaining experience and completing some laps.
Luke James of Horsham claimed all three V8 Truck heats. Kewell rookie driver Tim Driller's debut night was cut short when his truck retired due to a mechanical failure in a spectacular display of smoke.
Horsham Motor Sports Club now prepares for its next race meeting, which will fall on February 6. The meeting will feature 360 Sprint Cars.