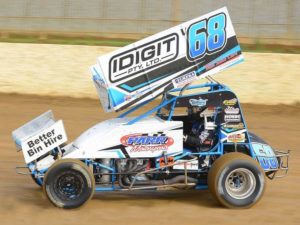 Saturday Night the unmistakable roar of 410 Cubic Inch V8 Engines will return to Blue Ribbon Raceway.
It has been six years since the SRA Victorian Sprintcars raced at the Kalkee track, and club members are excited to see their return.
Drivers from across the nation representing six states have nominated for the event. All but one of the current top ten championship drivers will be racing for points for the Eureka Series on Saturday.
Blue Ribbon Raceway will host the penultimate round of the series, which has raced at many of the tracks around Victoria this season. Only 397 points separate the current to 5 drivers, but with a possible 430 points on offer, the championship is still wide open.
From the twelve rounds of the Series conducted so far there have been nine different winners and another new winner is on the cards this weekend with the level of competition nominated. Corey McCullagh is the only driver nominated so far that has won two rounds of the Series this season.
Many of the drivers have not raced at Blue Ribbon Raceway before, so it will also be a race of who can adapt to the track and find the best setup.
Sprintcar driver Brett Milburn of Mornington currently leads the series with Warrnambool drivers Tim Van Ginneken and Corey Mccullagh in 2nd and 3rd positions respectively.
Two drivers that travel to Victoria each weekend are Tasmania's Tim Hutchins and Western Australian's Scott Reilly.  The pair will be having their first run at the Blue Ribbon Raceway venue but they should adapt without too much trouble.
South Australia's Glen Sutherland has been a bit of regular up at Darwin's Speedway each season and the experience he gained there with some good results should be valuable as the size and surface at this venue is similar.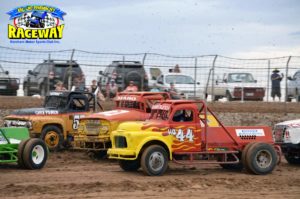 Saturday night's racing format will feature heat races that will decide the starting positions in the Main Feature race.
V8 Trucks will also race on Saturday night along with Street Stocks, and 3 Litre Sedans.
Gates at the speedway open at 4.30pm, with the action to start at 5.30pm.
Admission is $25 for adults, $20 for pensioners and $15 for students. Children under 12 get in for free.
Co-written with Ian Vale of SRA Victoria
SOURCE: The Mail-Times March 17, 2017