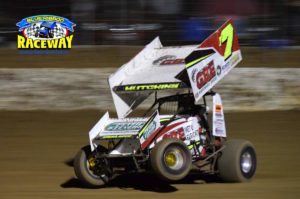 Speedway fans came out in force on Saturday night to Kalkee's Blue Ribbon Raceway to see the return of the Eureka Sprintcars.
Over 1500 people flocked to the quarter mile dirt track north of Horsham to see the "Big Banger" Sprintcars race the 14th round of the Eureka Garages & Sheds series.
It was the first time in six years since the Sprintcar Racing Association raced at Blue Ribbon Raceway and this time they brought their 410 cubic inch V8s.
Continue reading Unstoppable Hutchins wins at Blue Ribbon Raceway →